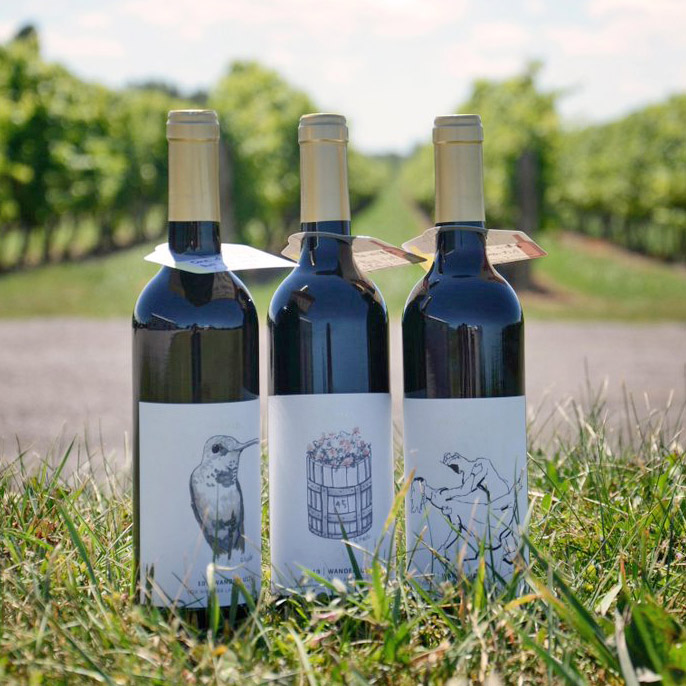 Be a NOMAD
We believe a winery is really an expression of the soil, the place and the passion of great people that choose to tell this story through making wine.
A winery needs a listener of that expression but more than an audience, they need participants so that together we build a great experience. Your contribution is what keeps the experiences alive and tells the story in a way we could never imagine.
So we created the NOMAD label to involve you in the expression. We invite you to turn the label into your postcard, greeting card, palette or simply a way to say hello. NOMAD is a means to share your stories, desires for the experience or thoughts of the moment. NOMAD is your canvas. Go ahead, apply pen or brush to this label, record your moment, make a wish, or invite the future. NOMAD is yours.
Send us a snapshots of your NOMAD labels and we'll feature them in the NOMAD page. Email: nomad@hinterbrook.com
NOMAD Label Designer Details
We invite you to share your spirit … create your own work of art and submit a design to our Nomad Label Partner Program:
1. Download a Nomad label template file: Downloadable Template
2. Leave your mark using Pen, Paint, Marker
3. Be sure to include your signature on the final
4. Upload your submission as an electronic file in JPG or PNG format using the uploader in the left sidebar.
All label submissions will be reviewed and the chosen work will be rewarded with $1000.
The select label will be printed and applied on bottles which will be displayed for purchase in our Winery retail shop and LCBO.
——————-
View our gallery of Nomad art and story labels here.