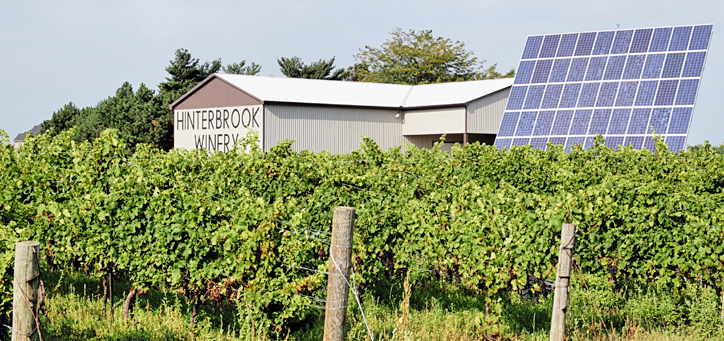 Gentler Steps
For local wine, like most agricultural products made naturally from the soil, it's not a stretch to suggest that it's an ecologically sound industry. We gently grow fruit that's converted to a beverage using easy age old processes, bottled and packaged simply and shipped relatively short distances to your door gathering very little inherent waste energy when compared to imported wines or other products.
Although it is clearly more at home with nature than most manufacturing, it does have room to improve, particularly in how the facilities are designed and operated.
Thankfully there are an increasing number of Niagara Wineries that have taken steps to leave a gentler footprint.
For example, Southbrook Vineyards on Stone Road has built an energy efficient winery that practices sustainable agricultural methods including biodynamic growing as well as using sheep to trim leafs and fertilize the soil.
Ravine Vineyards in near by St. David's practices organic farming as well as a "farm to table back to farm" approach to their food program where they grow organic vegetables for the restaurant and collect waste that is fed to their animals that are then harvested for food to supply the kitchen.
And here at Hinterbrook we maintain a near zero carbon footprint with our ultra low energy consuming facility. Thanks to our large sun positioning solar array, geothermal heating and cooling, low energy load lighting and rainwater collection with gentler sanitation processes, together we have achieved a very gentle step towards a better future for Niagara's ecology.